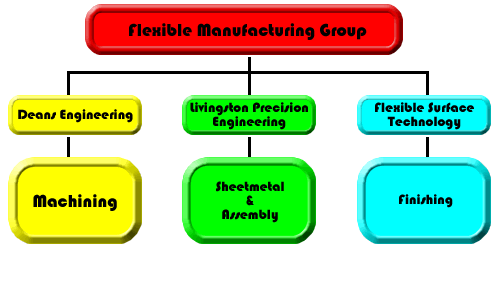 Deans Engineering is one of the best equipped CNC machine shops in the UK. Ongoing investment ensures that the latest technology is available for all our customers. Deans support all our customers precision machining requirements from prototypes to high volume production.
Livingston Precision is a precision sheet-metal company supplying customers with everything from a bracket to a fully integrated enclosure. This can include electro-mechanical assembly, final customer configuration and direct customer shipment.
Flexible Surface Technology supply a full range of electroplating finishes that are fully compliant with the latest RoHS and WEE regulations. Our E-Coat and painting capability completes the full range of finishing services. FST are fully accredited to ISO14001 and are IPPC approved
The three group companies operate seamlessly and share many common resources including finance, sales, quality, purchasing and transport. This allows costs to be kept under control and delivers the maximum benefit to our customers.